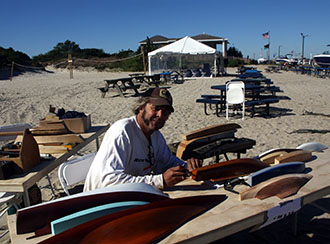 Christopher Hale is a boat builder and half model creator. Over the years, he has worked in various boatyards on Long Island. This includes Coecle's Harbor Marina on Shelter Island and Hampton Shipyard in East Quogue. For the over 15 years he has been working for Weeks Yacht Yard in Patchogue. In 2013, Hale was featured in a Newsday article for his half-model making and has participated in several events for Long Island Traditions. His passion is creating half-models of Long Island working boats and racing sailboats from earlier eras.
Christopher works on traditional wooden boats ranging from skiffs and cat boats to modern recreational fishing boats. Hale is one of the few people who also make "half models" of traditional boats that once graced Great South Bay.
Hale makes several varieties of half models that include both recreational and commercial boats. Hale follows a long line of traditional boat builders who make half models, a tradition that was carried on by Fred Scopinich of Freeport, Paul Ketcham and other traditional boat builders, including Hale's great-grandfather.
"My great-grandfather was a boat builder in Brooklyn in the late 1800s and early 1900s and built half models," Hale said. "As a kid, I always thought they were kind of cool and I eventually inherited three of them which are now mounted on the wall of my living room."
Hale uses various types of wood depending on the model he is making. Using specialized tools, Hale makes garveys, models of sailing racing boats, and other boats commonly found on Great South Bay. He estimates that he has built over 100 models, and plans to continue for years to come.
If you would like to own one of Christopher's models, just fill out the form on the side of the page and Christopher will get back to you as soon as he's away from the boatyard and out of his shop.